Tile and Grout Cleaning Professionals.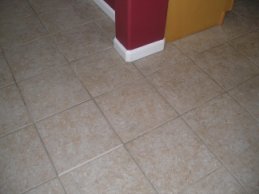 At Serra Tile, Stone and Carpet Care we specialize in your tile and grout cleaning needs. We are confident that our 8 step cleaning process will give you the best final results you will ever get from a professional cleaning company.
You can trust that your natural stone, tile, grout and other hard surfaces will be safely cleaned, sanitized and restored to like new condition using the latest and best cleaning methods out there.
Just look at the photo above and to the right. This is a picture of a kitchen floor before our Tile and Grout Cleaning service. Notice the dull appearance on the surface of the tile and the dirty grout lines.
---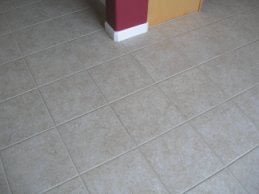 Now look at the photo to the left. This is the same kitchen floor after our Tile Cleaning service. The surface of the tile is now bright and clean and the grout looks new agian.

Not to mention what you can't see...it has also been sanitized with 240+ degree water.

So, why waste your time on your hands and knees trying to clean it the "old fashion" way? Let Sierra Tile, Stone and Carpet Care take care of it for you.




And remember, we won't just clean your tile and grout...we will get rid of your dirty grout lines forever...GUARANTEED!!!




8 Step Tile & Grout Cleaning Process
Inspect and Pre-clean surfaces to remove any loose debris.


Pre-treat the tile and grout with our non-toxic cleaning solution to help emulsify the soils (i.e. dirt, oils, soap scum, etc.) embedded in the grout and on the surface of the tile. We let this heated solution dwell for 10-15 minutes.


Agitate the solution into the grout lines and on the surface of the tile as needed.


Clean and Extract using our trailer mounted pressure washing system that is designed specifically for cleaning tile and grout and other hard surfaces (i.e. concrete,brick,stone). The system can generate water pressure between 100-3000 P.S.I. (preset to a predetermined level typically from 800-1500 P.S.I. for most tile surfaces) which power washes the surfaces, blasting years of built up soils, grease or food from the pores of the stone, tile and grout. All of which is done using one of our patented hard surface cleaning tools that keeps all of the water and contaminates self contained. At the same time the dirty water is vacuum extracted back to our cleaning trailer (at 2.5 gallons per minute) leaving the surfaces almost completely dry.
Spot Clean any areas that have not come clean with a safe, low PH tile and grout cleaning solution when necessary.


Speed Dry the surfaces with our high powered air movers and inspect all areas after they are dry.


Protect your clean grout lines with a sealer of your choice. Either an impregnating Clear Sealer or you may choose to have your grout Color Sealed making it virtually stain proof and giving it a completely uniform color (blocking out any pre-existing stains in the grout) making your floor look new again.


Educate you on the proper care of your now clean and sanitary tile and grout in order to help you maintain its beautiful appearance.
If you're not satisfied...we're not done!
Satisfaction Guaranteed!
---
Photo Gallery
The images below are just a few examples of what you can expect to receive with our superior Tile and Grout Cleaning services . Just click on the image to scroll.
---
Enjoying Your Newly Cleaned Tile & Grout?
Yes! Well, why don't you let us know about it.

Did we recently clean and restore your grout, making it look new again? If so, we would love for you to share your experiences with our newer clients to be. It will only take a few minutes and with every accepted review we receive, we would like to send you a special gift. It's just our way of saying thanks.

Giving us feedback on your tile & grout cleaning experience will help give our future clients a better understanding of what to expect from our services in the eyes and words of a real client. It also lets us know if we are doing what we set out to do on every job... Satisfy our customers with great care in service.
What Some Of Our Clients Have Said
Click below to see some feedback from some of our past tile & grout cleaning customers...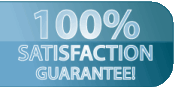 3180 COUNTRY CLUB DR.
Unit 4-B
CAMERON PARK, CA. 95682
(916)799-6482
Professional tile and grout cleaning services available in Cameron Park, Carmichael, Citrus Heights, Diamond Springs, El Dorado Hills, Elk Grove, Fair Oaks, Folsom, Granite Bay, Ione, Jackson, Lake Tahoe, Orangevale, Placerville, Rancho Cordova, Rancho Murieta, Rescue, Rocklin, Roseville, Sacramento, Shingle Springs, Wilton and surrounding areas.
Hire a Tile and Grout Cleaning Professional Today!