Sealing Grout
Sealing grout with a premium sealer is the only way to protect it from a water or oil-based stain. Grout is a very porous material and without the protection of a premium sealer it will be extremely susceptible to staining. A sealer will simply reduce the chance of a spill from penetrating into the porous surface of you floor or counter top's grout lines and gives you time to clean it up before staining occurs.
After we restore your grout to its original beauty with a good deep cleaning we will offer you one of two types of grout sealers. A clear impregnating sealer or our stain proofing color sealer. By having Sierra Tile, Stone and Carpet Care seal your grout you can feel confident that your investment has been properly protected from possible future staining. No matter which sealer you choose we will only use a professional, premium grout sealer. We do not use cheap, box store sealers.
---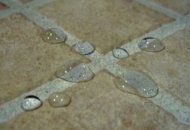 We use a unique Rapid Cure, V.O.C. compliant impregnating sealer, which penetrates the grout to provide maximum stain protection against water and oil based staining while still allowing the substrate to breath properly. It is non-yellowing, long lasting and will not change the appearance of your grout. The Rapid Cure Formula will protect your grout in as little as 4 hours and allows regular foot traffic to resume almost immediately after application. Sealing grout with a clear sealer is typically the choice when no pre-existing stains are present.
For Q & A's on Clear Sealer click here.

---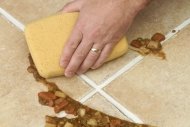 Color sealing grout provides a water-tight, stain proof layer of protection and eliminates color variations in grout due to stains, fading or damage. We can typically match any color grout you may have and can maintain the color uniformly from wall to wall or change to a completely new color of your choice if you choose. The colors are custom blended on-site so you don't have to wait for a specific color to be special ordered.
This process will not only restore your floors to their original beauty, but with its built-in fungicides, bactericides and mildicides it insures sanitation for many years to come. This process will eliminate the chance of your grout from staining and makes maintenance very simple and easy.
For Q & A's on Stain Proofing your grout click here.
---
  3180 Country Club Dr.
Cameron Park, Ca. 95682
(916)799-6482


Sealing Grout Service Areas

Serving our clients located in Cameron Park, Carmichael, Citrus Heights, Diamond Springs, El Dorado Hills, Elk Grove, Fair Oaks, Folsom, Granite Bay, Ione, Jackson, Lake Tahoe, Orangevale, Placerville, Rancho Cordova, Rancho Murieta, Rescue, Rocklin, Roseville, Sacramento, Shingle Springs, Wilton and surrounding areas.
Home
|
About
|
Quote
|
CLICK to CALL NOW!