Travertine Cleaning and Sealing

Professional travertine cleaning and sealing in Folsom, El Dorado Hills, Sacramento and surrounding areas. If you have been struggling with keeping your travertine tile looking it's best, maybe it's time you call Sierra Tile, Stone and Carpet Care your local travertine restoration specialist at (916)799-6482.
Our process can safely remove years of heavy build up and grime that can dull the surface of your once beautiful looking travertine tile. Our equipment and cleaning agents are specifically designed and formulated to give you the best and safest end result while maintaining the natural beauty of your floor. Using cleaning agents that are specifically formulated for your type of stone is a critical part of this process. If an unsafe product is used it can possibly cause major damage to your floor
This is why it is very important that you choose someone with experience in dealing with cleaning travertine floors. With years of experience and tens of thousands of feet of travertine cleaned you can always trust that your natural stone floors are in good hands when hiring Sierra Tile, Stone and Carpet Care for your travertine cleaning needs.
Travertine Honing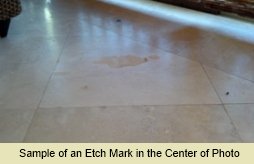 Once we have successfully cleaned your floors, if there are noticable etch marks (acid etching caused by acidic spills like orange juice and wine) or scratches you are concerned with, we can hone your travertine and remove the blemishes to make it look more uniform in it's sheen. At times this can be done on a spot by spot basis but typically a full service travertine honing or polishing is required to get the best finished product.
Travertine Sealing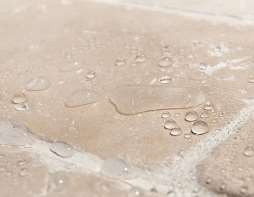 After your floors have been thoroughly deep cleaned we can also apply a professional grade clear impregnating sealer to help protect it from future staining. When applied this type of sealer maintains the natural look of your travertine yet forms an invisable barrier that resists moisture, stains, and mildew, but is breathable (gas permeable) and does not leave a surface coating on your floor. Travertine sealing essentially helps slow down the absorption rate of water and oil based spills. Giving you time to wipe up the spill before it absorbs into the stone or grout. This will ensure that your floors will remain looking great for years to come.
---
If requested, we also offer a color enhancing sealer that when applied will darken, enrich and highlight the natural color of your travertine and protect it from water and oil based stains at the same time. The photo below illustrates what happens to tumbled travertine after being color enhanced.
  3180 Country Club Dr.
Cameron Park, Ca. 95682
(916)799-6482


Travertine Cleaning Service Areas

The travertine honing, cleaning and sealing pro's at Sierra Tile, Stone and Carpet Care are available in Cameron Park, Carmichael, Citrus Heights, Diamond Springs, El Dorado Hills, Elk Grove, Fair Oaks, Folsom, Granite Bay, Ione, Jackson, Lake Tahoe, Orangevale, Placerville, Rancho Cordova, Rancho Murieta, Rescue, Rocklin, Roseville, Sacramento, Shingle Springs, Wilton and surrounding areas.
Home
|
About
|
Quote
|
CLICK to CALL NOW!