Clear Grout Sealers Q & A's
Why is it important to have my grout sealed?
A. Grout sealers will help prevent spills from penetrating into the porous surface of the grout (see picture below) and gives you time to clean it up. Simply blot fresh spills with a clean cloth or paper towel. The sealer continues to protect even after repeated cleanings. Essentially, sealing grout with a "quality" grout sealer is the only way to protect your investment from water-based and oil-based stains.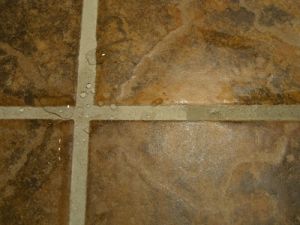 *Notice in the photo how the water soaks into the grout on the right where it has not been protected with a grout sealer and it darkens the grout, yet it beads up on the left where it has been sealed
Does my ceramic tile need to be sealed?
A. No. The ceramic tile is sealed in the manufacturing process but the grout between the tiles should always be sealed.
How does a sealer protect my floor?
A. The penetrating sealer is absorbed by the Natural Stone or Ceramic Tile Grout. It fills up the "nooks and crannies" with the sealer solids so that when spills occur (oil or water based) the liquid cannot get below the surface, and it sits on the surface of the grout. Allowing you to wipe it away.
What do sealers protect against?
A. A penetrating sealer repels water-based and oil-based liquids and beverages and protects the surface from dirt and impurities. Keep in mind that your grout can still get dirty, even if it is sealed with a quality grout sealer. It will simply clean up with less of a chance of a stain occuring. If you want your grout to actually be "Stain Proof" you will need to have your grout color sealed.
Does a sealer alter the appearance of the grout?
A. No. Not our clear sealers. They protect without changing the original color, texture, feel or appearance of the surface. However, we also offer color-enhancing sealers for natural stone, marble, granite, limestone and masonry surfaces as well as our color sealants that can change you grout color to whatever color choice you may pick.
Is a sealer expensive?
A. Yes and NO. Most professional grade sealers are quite expensive. Some sealers purchased at big box stores are not. We use only professional grade sealers and we do not use box store sealers. Our sealing programs on the other hand are very affordable and can actually SAVE you money in cleaning and replacement costs.
How is a sealer applied?
A. First, the floor is professionally cleaned, neutralized and fully dried. Then, the sealer is applied using professional equipment and allowed to soak into the grout and/or natural stone for approximately five to ten minutes. Finally, the excess sealer is removed from the surface using a floor buffer and allowed to dry.
Why is it necessary for a professional to apply sealer? Can't I do it myself?
A. Our professionals have the training, experience, tools and a wide variety of sealers for all types of natural stone, tiles and grout. Professional application ensures complete protection for the entire surface of the floor. Improper sealing can also leave a sticky residue on the surface of the floor that is difficult, if not impossible, to remove.
How should I maintain my sealed floor?
A. We will help by educating you on the correct maintenance proceedures for cleaning your tile and grout and most importantly what to stay away from in terms of cleaning solutions that might have an adverse affect on your newly sealed grout. We offer an excellent line of suitable cleaning products through our company and typically supply you with a bottle, free of charge, to get you started. *It is important to use the right cleaning solution, as the wrong type can actually break down the sealer and render it useless.
Will my floor ever have to be professionally cleaned and sealed again?
A. Yes. We can provide periodic maintenance cleanings and re-seal your grout (when needed) to keep your floors in top condition. The frequency will depend on the amount of traffic on them, frequency of spills, your cleaning habits, etc. A grout sealer will essentially make maintaining your floors much easier and more effective, but not maintenance free.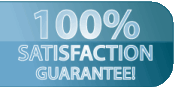 3180 COUNTRY CLUB DR.
Unit 4-B
CAMERON PARK, CA. 95682
(916)799-6482
Have your grout sealed by the tile cleaning and restoration pro's of Sierra Tile, Stone and Carpet Care. Grout sealing services are available in Cameron Park, Carmichael, Citrus Heights, Diamond Springs, El Dorado Hills, Elk Grove, Fair Oaks, Folsom, Granite Bay, Ione, Jackson, Lake Tahoe, Orangevale, Placerville, Rancho Cordova, Rancho Murieta, Rescue, Rocklin, Roseville, Sacramento, Shingle Springs, Wilton and surrounding areas.